Timothy H. O'Sullivan as a ten-year-old apprentice at Brady's Studio.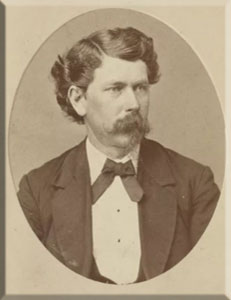 Based on the life of Timothy O'Sullivan, Tim is a ten-year-old boy from sleepy Staten Island who is told he must apprentice at Mathew Brady's daguerreotype studio in 1850.
Tim takes the ferry over to York with his father and rides the omnibus up Broadway to Fulton Street. Across from Brady's Gallery is Barnum's American Museum filled with all its relics and wondrous curiosities. As Tim ventures inside Brady's darkroom, he takes us back into New York's forgotten past and the history of photography.
The story begins on September 11th, 1850, with Jenny Lind's premiere concert at Castle Garden near Battery Park — a night that would be remembered for years to come, as the night when the Sweet Warbler first sang in New York.
All the city is infatuated with Jenny Lind. Great crowds surround her wherever she goes. She is the most sought-after celebrity by all the Broadway photographers, except that her manager, none other than P.T. Barnum himself, will not grant Brady access to the Swedish Nightingale.
But Brady shall not be thwarted, not with his observant young assistant. Tim tells Mr. Brady that other photographers have captured Jenny Lind. Brady points to his gallery wall. He is a hunter, much like the Deerslayer in the novel by James Fenimore Cooper. He must add Jenny Lind to his wall of trophies. Tim takes a demand letter directly to Mr. Barnum's office.
On September 14th, Jenny Lind sits before Brady's camera, but still he is not satisfied. There is one subject that has eluded him these many years – the most sought-after subject amongst all the Broadway portrait artists. Many have tried, but all have failed...